This space is held for (the short version) announcements and any news worthy notations.
____________________________________

If you see missing pictures or links, bare with me! Slight changes in the works.



This work is licensed under a
Creative Commons Attribution-NonCommercial-NoDerivs 3.0 Unported License
.

Tasha had been on her mind alot lately. She had't really had time to talk to her in years. To be honest Schala had sent her away before her Uncle Garreth was killed, and she really didn't know how to broach the subject with her. But Tasha had been there to try to help her, and she owed her that much. She walked up to Tasha's door and knocked.
Tasha had been laying on the bed. There was a pile of dirty laundry on the floor that she needed to get washed, but wasn't in the mood. There was a pile of papers on her desk that needed to be read and signed and filed and delivered and so many other things, but she wasn't in the mood. There was a mini lab set up on a table with experiments to be done, but she wasn't in the mood. There was a pile of stones and findings on another table that could be assembled and put in the things to be sold once she helped Venis get the gift shop open, but again, she wasn't in the mood.

There was a knock upon her door and Leviathan perked up and looked over at the door. Who the heck could that be, no one ever knocked upon her door. She hadn't even bothered to get it replaced from when Dre burst through it. She had just hammered here and sanded there and made it close again. And lock.

She got up off the bed, her sweat pants hanging on her overly bony hips. One could tell she had on no underclothes if they looked at her plain white tank top and the way it hung from her curves. Her hair hadn't been washed let alone brushed in probably three days. But at least she was still putting on deodorant and changing her panties every day.

She walked over and unlocked the door. And now that she was at the door she could definitely smell that it was Maddie. She gave the door a good yank and it became unstuck and flew open. Tasha stumbled backwards and nearly fell. "Come on in Maddie." She waited for the young lady to come in and then jammed the door shut behind her. She offered her a seat and went to see if she had a bottle of water or something in the fridge in the kitchenette. "What can I do for you?"
Maddie gave Tasha a warm hug, and Leviathan a loving rub on the head. "Hey there old friend, I haven't seen you since you were a little thing."
She looked up at Tasha. "I just wanted to stop by and say thank you for trying to save me the other day. It really ment a lot. I've missed talking to you. I've thought of you alot over the years while Schala had me sent away to earth. I felt the loss of Uncle Garreth when he died, and saw it in a vision. I miss him Tasha, and I know you do to. "
That being said she pulled out two gift boxes. One for Tasha and one for Leviathan. Tasha would find a dolomite pendant in 24k white gold, and an amythiest collar for Leviathan
"I wanted to give you something to say thank you for your help. Plus a little something for my buddy right here."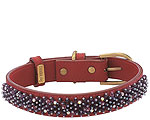 Tasha heard Maddie from the kitchen and she lowered her head. A few tears splashed upon the floor as she pulled two bottles of water out of the fridge. She wiped at her face and then went into the main room where Maddie was. She returned the hug and handed her the bottle of water. "Thank you Maddie, it really wasn't necessary. Levi probably did more than I did, she was bringing blood for V." She sat her bottle of water on the table unopened and took the boxes.

She put her foot up in the chair and sat down on it, then she brought her other leg up to put her foot in the chair in front of her other leg. Harder to tell how skinny she was getting when sitting this way. She opened the bigger one first. It was another new collar for Levi. She smiled. "It's lovely. Look girl, more pretty jewelry for you to wear. We're going to have to get you your own jewelry box." She showed Levi the collar and she sniffed it before walking over and putting her head in Maddie's lap.

Tasha set them down and picked up the next box. It was a gorgeous white gold pendant. It was beautiful. "Thank you Maddie, it's so lovely." She set the box and the necklace on the table and leaned forward to hug the girl. "And I'm sorry you had to see your Uncle get killed. I know I haven't been much of an Aunt lately, and I'm sorry for that." She and Gary had never actually gotten married, but she still wore the ring he gave her when he asked her to.

Tasha looked up at Maddie again with a sad look in her eyes. "Can I ask you a favor though sweety?" She hated to ask this, but she would never be able to survive Maddie if she didn't. "Please do not ever speak your foster-mother's name in my presence again. I don't mean to upset you, but I never forgave her for what she did and now, I don't think I ever will." She just knew that Maddie was going to hate her now, so she was prepared to add her name to the list of people who would never knock upon her door again.
She gave Tasha a warm sympathetic look. "That you don't have to worry about Aunt Tasha. You know for years I though Daddy had left because of all those little pranks I plaid on him. Truth is, she sent me away to a convent on Earth called Glastonbury, and didn't tell Dad where I was. I only found out the truth recently."
Maddie started laughing. "The old crow would probably have a fit if she knew when I was on my way to the convent I ended up in place called Avalon training to be a priestess to the Goddess."
Maddie pulled back her bangs to show Tasha the crescent moon tattoo on her forehead that showed her in fact she was a full fledged priestess.

She gave Leviathan a good scratch under her chin. Then stood up. "Well I don't want to be a bothered Aunt Tasha. I have other things to do before I head to work at the forge. I hope we can talk some more again sometime. I miss our talks. I always enjoyed spending time with you as a child."

Maddie stood up, and hugged her aunt, and made her way to the door.
She smiled as she stood up and wrapped her arms around her. "Love you. I'll see you later. You know where to find me. And I'm proud of you." She walked over and yanked open the door again so she could leave. Once she had stepped out Tasha jammed the door shut again and locked it. Then she went back to her bed and laid back down, she didn't dare close her eyes.

---
Permissions in this forum:
You
cannot
reply to topics in this forum