This space is held for (the short version) announcements and any news worthy notations.
____________________________________

If you see missing pictures or links, bare with me! Slight changes in the works.



This work is licensed under a
Creative Commons Attribution-NonCommercial-NoDerivs 3.0 Unported License
.

((Just so that you all know, I've not done one of these since we were in the S.B.R.  And even then, it was mostly Gawain-mun, and later Kahn-mun, who had done them.  But, since I've inherited Kahn, thankfully not for the same reason that Angel-mun inherited Raph, I'm stuck figuring this one out on my own.  So please keep that in mind.  Thank you.))
It had been thirty-six days.  Thirty-six days since Venis and Kahn had found out about the passing of Raph.  Thirty-six days since Venis had rushed to Angel's side and Kahn had taken his soul to the great beyond before going in search of his remains.  Kahn had been home every night of those thirty-six days.  A new record.  And even if he didn't stay the entire night, he stayed long enough to spend time with his wife and kids.  But today ... Today, he was home closer to lunch than dinner.
Venis was easily bored.  So she was always doing something to keep herself busy.  Today, she was in the garage.  She was working on the bookshelves that were going to go in the castle library.  There would be built-in's, of course, but these were for the floor.  Hey, a girl's gotta keep busy, right?
She felt Kahn's presence before he even landed.  She came out of the garage, dusting the sawdust from her blue T-shirt and jeans.  Her long hair was pulled up in a large bun atop her head and she was wearing safety goggles.  She pulled the goggles up to rest upon her head as she watched for him to come in for a landing.
Kahn circled overhead for a moment before coming to land in the driveway.  His dragon form faded away as he walked toward his lovely wife.  The look on his face was grim.  As grim as it had been the day he showed up with Raph's soul gem.  He closed his eyes and hung his head for a moment.  "I found him."  Spoken as he started to walk toward the front door of the house.
Venis frowned and silently turned to follow him into the house.  She was going to need to shower and change so that they could go see Angel.  This was the second visit she was not looking forward to.  And it was probably going to be even harder than the last.  Venis was so dreading this visit.
While they were in the shower, yes together, Kahn told Venis about everything that he had found out.  And the things he learned had made them both dread this visit even more.  Neither of them ever wanted to make these visits.  They were a horrible thing to have to do.  But Angel had a right to know.  And she had a right to the box that Kahn had bought home with him.
Once they were out of the shower, they hurried to get dressed.  None of the kids lived at the house anymore, so there was no need to alert them to their leaving.  Venis put on a black dress, fitted at the waist with a high top and a long skirt.  Full sleeves flowed down her arms to bell at her wrists and cover her hands.  She slid on a pair of plain black heels, though they were her usual six inches high.  Don't ask why a woman who is already over six foot tall needs six inch heels.  And she grabbed a large leather bag off the bedpost of their bed.
Kahn put on a pair of black slacks and a black button down shirt.  He wore a black belt in the pants, and black trouser socks with black leather shoes completed the garment selection.  He grabbed the small, ornate, wooden box off of the dresser on their way out of their bedroom.  As they headed for the door, he grabbed a set of keys off the rack.  Then the two of them got into the Powder Blue, E.Y. 1957, Chevrolet Bel Air, rag top, convertible that sat in the driveway.  The top was up already, so they just backed out and headed to the Inn.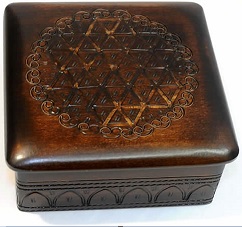 When they got to the Inn, Venis waited for Kahn to open her door like he had when they got in the car to leave.  And he, of course, did so.  Then they walked up to the door of the Inn and went inside.  They didn't even bother to go to the front desk for help.  They didn't need it.  They went straight to room two oh seven.  Then Kahn knocked on the door and they waited.
~ People change Angel, you can't expect them to stay the same forever. Even you have changed a little bit over the years. ~ Silver was laying on the floor, wolf head laying on top of his front paws while those wolf eyes watch Angel laying on the couch.

The vampire sighed, fingers on her hands would lock and then move to go under her head which was resting on the arm of her couch. Bare feet where crossed at the ankles. Today she wore her Angel shirt, dark purple long sleeved shirt with Angel written on it in light purple letters and her low rider jeans. If Silver only knew half of it, he wouldn't be so quick with his words. It had been a few days since he had left her room, pulling the most jerk move in the world and Angel was still trying to process all of the things she had learned that day.  Specially what he said when he basically dropped the mic on her. " I know, and change is good. Change means growth and blah blah blah. But, I don't know how much more I can handle. " Well not all change was good. " Deep down they are all still the same people I know and care about."

~ See, and you've said that before too Angel. You are just having a hard time digesting whatever the hell it was Archer told you. ~

Thank the gods there was a knock at her door! She couldn't take another moment of this. Up off the couch she jumped and over to the door bare feet would take her. Door was opened , a quick oh shit look crossed her face before a smile was offered to V and Khan. Now she was kinda hoping to go back to her thoughts and argument with Silver. " Venis! Khan! You two being here means one thing ... "  She gave a little sigh and stepped back from the door giving them room to enter. Angel wanted to know what happened to Raph ... but now that they were here the vampire wasn't really sure she wanted to know. " Please come in and have a seat." Right hand waving towards her couch before she headed towards her chair. Yeah she was going to need to sit down for this.
Venis hung her head as she walked in the door.  She knew that she didn't want to have to deliver this news.  But she also knew that Angel needed to know.  And there was no way in hell that she was not going to be here when Kahn told her.

Kahn stepped in the room right behind Venis.  He was not looking forward to telling Angel what he had found out.  And he wasn't even sure how he was going to tell her everything.  There were some things that were better left unsaid.  And he was hoping he could find a way to not have to say them.

Venis took the offered seat upon the couch.  She hung the straps of her bag on the arm of the couch so that it was within reach.  It was a bag of holding.  And depending on how this went, there were many things within the bag to help them get through this.  "Thank you Angel."  Because she had invited them in and offered them a seat.

Kahn moved to the couch as well.  He used the need to pull up his pant legs to sit down as a cover for getting the box out of his pocket.  "Thank you.  I wish we were here for a more pleasant reason."  He sat down next to his wife with a distressed look upon his face.  He hated this part of his job.  Especially when it was a loved one, and Angel was a loved one to the Jordianthan family.

Venis reached into her bag and pulled out an insulated coffee carafe.  Only, this one did not contain coffee.  She set it out on the table because she knew how Angel was about feeding.  And the lycanthrope blood, that was still very fresh and warm, in that carafe would do her some good.  Even more good than those few drops of her own blood that she had slipped her when she had been here last.  Angel was going to need all the strength she could get.

Kahn tried for a smile, but it didn't come anywhere near his eyes.  "The carafe was my idea.  It's lycanthrope.  It should sustain you for a few days and give you a bit of a buzz.  That way you don't have to go out and feed right away."  He left out the part that she was probably going to need the time to get straight after what he had to tell her.
Silver glanced up to Venis and Kahn when they stepped pasted him to sit on the couch ~Kahn it's been awhile. Venis, always good to see you. ~ The wolf got up then and headed towards Angel. Once there he sat down in front of her and placed his head on her lap. ~ I'm here Angel.~

Left hand moved to pet Silver on the head slowly, light blues glancing down to him for a moment. " I know you are. As well as a few others." She used her right hand to touch those rings around her neck, the one silently humming with life. She felt her other bonds too, everyone was there with her even if they weren't.

Light blues watched the two as they came in and sat down. Those eyes would linger on Kahn for a moment, little bits of memories resurfacing as she did. A little shake of her head was given, pushing the memories back. This wasn't the time for a trip down memory lane. A soft smile was given to him before those light blues looked to Venis and gave her the same soft smile.  This had to be tough on the two of them,  but Angel was going to be strong regardless of what had happened.  Those light blues eyed the carafe and a brow rose hearing Kahn's words. Right hand reached out to pick up the carafe just holding it in her hand for the moment. " Thanks, you two have always been so thoughtful. But what could have happened to Raph that I'll need this?" Question caused her head to tilt, those light blues looking between the two. Who was going to be the one to break the news to her?
Venis smiled when Silver addressed her.  Sometime soon she was going to have to take her wolf form so the two of them could go out running together.  It had been eons.  "Always good to see you too Silver.  I brought you a gift."  She reached into her bag and pulled out a plastic bowl with a lid.  She popped the lid on the bowl and leaned down to set it in front of her old friend.  It was a bowl of raw steak pieces.

Kahn looked over at Silver.  He had a smile for the wolf as well.  "Hi Silver.  Good to see you buddy."  When he looked back to Angel, his smile faltered.  Right hand went to the back of his head and he scratched.  Definite sign that he was nervous.

Venis bit her bottom lip.  She took a deep breath, although not necessary, and let it out slowly.  "Well, honey, we now have all the details of what happened."  She looked at Kahn.  She could do this, she had to do this.  She had seen the lingering look Angel had given Kahn and was watching Kahn for a lingering look in return.

Kahn had no lingering look for Angel.  They were here for Angel, not to hash up their marital issues or make them worse.  He did look at Angel as he spoke to her though.  "Raph was in the Enchanted Hills when he died. It appeared that he was living there.  People seemed to know him and were able to tell me what had happened."  He was being very careful to avoid certain words.  He wanted to soften the blow as much as possible.

Venis returned her attention to Angel.  She decided that what was in the back of her mind wasn't important at the moment.  She would ask Angel later, she knew Kahn wasn't going to tell her.  She'd only been harping on him about it for years now.

Kahn looked down at his hands as he continued to speak.  "Apparently, he found himself in a duel for the honor of a lady.  His opponent somehow managed to get his saber from him.  No small feat.  Anyway, his opponent managed to get his saber from him.  Raph's blood was spilled by his own blade."  Kahn looked up at Angel again.  The emotions he felt were painted on his face.

Venis was having a difficult time.  But she remained stoic, despite the waves of emotions.  This was not the time to lose her composure.  She was shielding as hard as she could to block out any and all emotions that she could.  Because she was drowning on the emotions in this room.  But she wouldn't be anywhere else at the moment.  She was needed here.

Kahn blinked back as much emotion as he could, but his voice still sounded ready to crack as he continued.  "I managed to convince the people who were in charge of his remains that I needed some of his ashes.  I told them that he had some family who had a right to them.  So I managed to get this for you."  He leaned forward and passed the small wooden box to Angel.

Inside the ornate box was a small plastic bag.  The bag contained approximately one cup of ashes.  He didn't want to lose any off the ashes, so he had put them in plastic before putting them in the box.  It made sense to him.  "I'm so very sorry Angel."  He knew her heart had to be breaking all over again.  But at least he had managed to avoid mentioning the wife.
Silver smelled the meat and gave a wolfish grin ~ Why thank you Venis ~ he took his head off of Angel's lap and proceeded to eat some of the raw steak. At least that would keep his mouth shut for the news she was about to get.

Light blues glanced between the two, she knew this was hard news to deliver but someone tell her something for crying out loud! Thankfully her hand had dropped the rings when Kahn finally broke the news. The mix of anger and sadness that ran through her, on top of everything else she was feeling, was enough to send the biggest jolt of raw emotion through her bonds. " Enchanted Hills? He stayed in that place even though he knew how I felt about it? " She took a deep breath, trying to keep her emotions in check. She could already feel the magic attempting to gather for a release. She gave a shake of her head. " That arrogant bastard would never lose his blade. I couldn't even get his blade from him and I learned from the best. "

The tears started rolling down her cheeks now. No uncontrollable sobbing was going to happen this time though. Light blues closing for a moment as right hand started to reach for the rings around her neck. Hand paused though and fell back to her lap. No, he wasn't going to feel her like this. Not this time. " So he somehow lost his blade, in an honor duel for someone that wasn't me .... " Another deep breath as Silver placed his head back in her lap. Right hand moving to pet his head. " I knew his flirting and charm would get him in trouble ... never thought it would be the death of him ..."

When Kahn said he had gotten some of his ashes, Angel almost told him to keep them. But those light blues opened and she offered a weak smile. Hand that wasn't petting Silver reaching out to take the box. " Thank you Kahn, Venis. At least Az will have something to remember him by. " That was spoken softly, almost weakly. The poor vampire was trying really hard to control the hatred that was attempting to take over her already mixed up emotions. Angel wasn't going to tell Az all of the details, at least someone would have a pure memory of Raph. She was going to keep it that way for as long as she could.
As Angel reacted to the news that Raph had been in the Enchanted Hills, Venis winced.  Angel tried to calm herself with a deep, cleansing, breath; but Venis still felt the slam of emotion.  Some days she detested being the Goddess of Protection and feeling everything from everyone all the time.  But never more than when strong emotions from a loved one were churning her stomach.

Kahn blinked at her response.  He had no idea that Angel had felt so strongly about that place.  Now he was even more relieved that he had found a way to avoid mentioning the wife. "I am truly sorry Angel.  I don't have the details as to how he had lost his blade.  And I agree, that was not something that ever happened.  I wish I had an answer as to how it had happened."  It hadn't occurred to him to ask how in the world Raph had lost his blade to his opponent.

Venis was regaining her composure.  She had fed before they came, but it was a while before.  She was thinking that maybe she was going to need to feed again.  At least Kahn was home and could go hunt with her.  

She sat and listened to everything Angel had to say about the matter.  Her heart sank with every word.  But nothing struck a cord like Angel commenting that it was an honor duel for someone who wasn't her.  Venis couldn't do anything but hang her head and frown.

Kahn cleared his throat.  He could feel the pain Venis was in.  They were bound together after all.  It might not have been the same bond as she had with Gawain.  But this was not the time to let that thought plague him.

At her mention of Az, Kahn looked to Venis and then back to Angel.  "If you or Az need anything.  You know you can call us, right?"  He knew that Venis would be fine with the invitation.   But he looked to her for confirmation anyway.

Venis nodded and smiled.  "Absolutely.  Any time.  We're always here to help.  Whatever you need."  And she meant it.  Angel was one of their oldest friends.  There was almost nothing Venis wouldn't do for her.

---
Permissions in this forum:
You
cannot
reply to topics in this forum